At E-Commerce 4 IM, we help high risk e-commerce owners process credit cards successfully. Part of the process is helping site owners get insights ahead of time when setting up their business in the first place. In order to do this, we cover various topics here on our blog. This time, we're offering a short guide on accepting payments for weight and diet supplements.
As you might already know, selling weight and diet supplements is considered high risk. However, we are going to show you that you can accept credit card payments for nutraceuticals, like weight and diet products. Our mini-guide will give you the information you need to start processing credit cards for your business, and we will help you understand the importance of reading the terms and conditions of your new payment provider.
We will also explain why weight, diet and nutraceutical products are in the high risk category. Finally, we will reveal some of the best places where you can get help with supplement credit card processing.
The ideal way to accept credit cards for nutraceutical products
All businesses that want to take cards need to have some kind of merchant account. This enables your company to receive payments via credit and debit cards. Ideally, when selling high risk products, this merchant account should come from a specialized high risk merchant account provider.
A high risk merchant account allows you to accept credit card payments for nutraceutical, weight and diet products in a quick and easy manner. You should expect reasonable transaction fees from the merchant service provider, and they should also be able to provide a fair degree of stability when chargebacks inevitably occur. Just because you're selling nutraceuticals doesn't mean that you should settle for poor service from your payment processor.
Most businesses benefit from the ability to accept a wide variety of payment methods such as Visa, MasterCard, PayPal and Stripe. However, all payment brands have important terms and conditions that you must meet before you can use their services. Be sure to read the small print to double-check that the payment provider allows you to use their service when selling weight, diet and nutraceutical products. PayPal and Stripe, for example, are unlikely to accept your business type. In other words, carefully read the terms and conditions before signing up with either of them.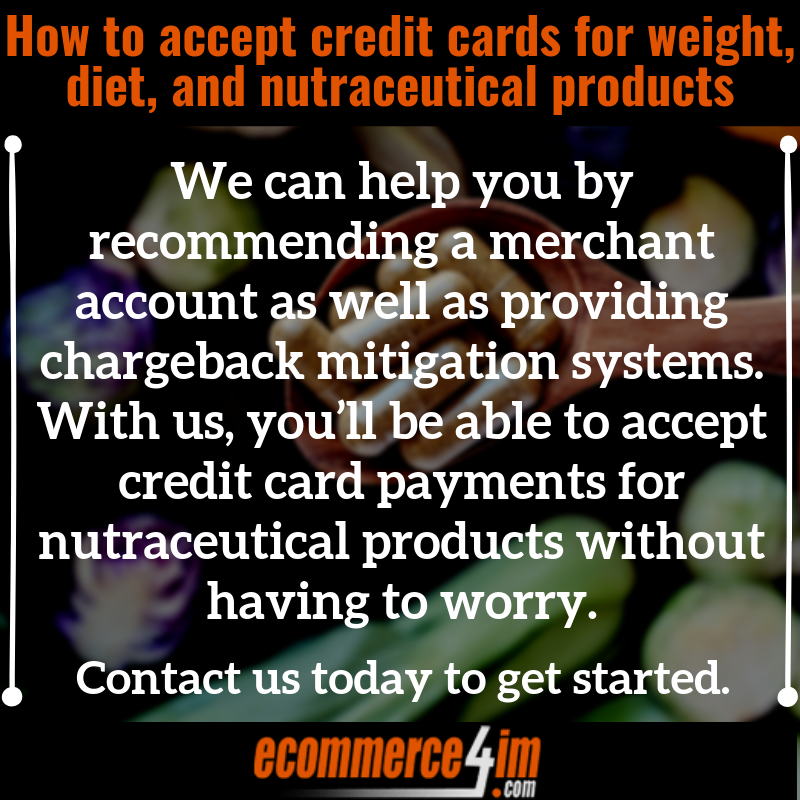 Reasons why supplement credit card processing can be difficult
If your company sells products like nutraceuticals, then you will probably encounter difficulty setting up your nutra sales merchant account. This is because many banks consider supplement businesses high risk.
We've created an in-depth article that explains the reasons why supplement merchants are high risk. But just to give you an idea, here are the main factors as to why accepting credit cards for nutraceutical products can be tricky.
Selling diet supplements comes with a high chargeback frequency
If a customer buys a product that they consider to be damaged or different from what they expect, they can request a chargeback. This means that the payment is reversed and the funds put back into the customer's account.
Chargebacks occur relatively frequently in the nutraceuticals industry. This means that your company is likely to be deemed high risk. Rather than take a chance on providing merchant services to your business, most banks would decline your merchant application.
Don't worry though – if you need a chargeback mitigation system and credit card processing, we're more than happy to help. We offer excellent, high risk credit card processing that supports nutra and supplement sales. Simply get in touch with us here.
Not having to meet FDA requirements
As many nutraceuticals, like weight and diet supplements, can be sold without approval from the US Food and Drug Administration, it means that they are subject to higher levels of customer dissatisfaction.
Not only would this raise the chances of chargebacks, but it's also an image concern for many banks.
However, the majority of weight, diet and nutraceutical products are sold without any problems or concerns. While most standard payment processors are unwilling to help, there are solutions to your processing needs.
We can help you by recommending a merchant account as well as providing chargeback mitigation systems. With us, you'll be able to accept credit card payments for nutraceutical products without having to worry.
Instability in the supplements industry
Since you're selling high risk products, many merchant service providers will require assurances that your brand is financially stable. This is because weight, diet and nutraceutical companies statistically have a higher than average risk of bankruptcy.
Much of this can be put down to the highly competitive marketplace, and less specialized payment processors are likely to want to take the risk of being left with unpaid fees and chargebacks on their accounts.
Finding help receiving payments for weight and diet supplements
You're probably going to encounter difficulty finding a reputable merchant account and credit card processor if you do it alone. There is much to learn about merchant accounts, and things get even more complicated when it comes to diet, weight and nutraceutical products.
Supplements and dietary products are common high risk products. This means you're much better off with specialist help finding the best possible payment processing set-up for your brand.
At E-Commerce 4 IM, we have plenty of experience with credit card processing for weight loss sales. Get in touch with us today! We're more than happy to offer you specialized credit card processing for the weight, diet and nutraceutical industry. You can contact us here at any time, or give us a call at 1-800-570-1347.