At E-Commerce 4 IM, we provide high risk credit card processing and chargeback mitigation systems to a wide range of high risk businesses. Over the years, we've gained valuable insights into what high risk business owners need to improve and grow their business. One of the most common challenges that high risk businesses need to overcome is chargebacks and how to proceed in dealing with them – including how to know when issuing a refund is the best option for you.
Making sales can be a challenge; losing a sale through either a chargeback or a refund can be hard to stomach. However, there are times when it's better to issue a refund rather than dispute a chargeback. To help as many high risk businesses as possible, we want to highlight a couple of possible scenarios to show how proactively issuing a refund can actually be beneficial.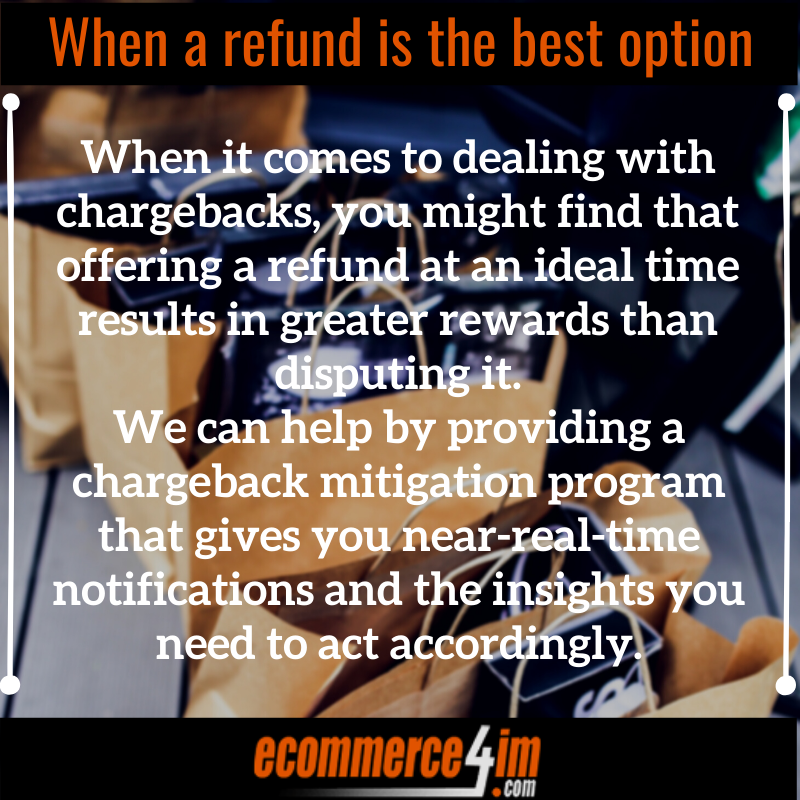 Refunds and customer expectations
Returns and refunds are an important component of your sales strategy when running an e-commerce website. According to 2018 consumer report data from Narvar, 42% of shoppers have returned an online purchase in the last six months, while almost 90% had returned an online purchase within the last three years.
With more and more online stores focusing on improving convenience and creating a competitive edge through deliveries, returns, and refunds, people have certain expectations these days. E-commerce shopping habits have changed, and returns and refunds form a big part of that. Shopify estimates approximately 20% return rates, whereas other thought leaders discuss experiences of up to 30% for online retailers.
Advice: you can make use of these new shopping habits and expectations to boost your sales. Simply ensure that your return and refund policies are customer-friendly and easy to understand. If these are accessible and understandable, you have a higher likelihood of converting more visitors to sales. Even though it might increase the number of returns you receive, this is likely to be outweighed by the overall growth in sales.
Handling chargebacks and refunds
As we mentioned earlier, we offer chargeback mitigation systems that are designed to decrease the likelihood of chargebacks being generated by your high risk e-commerce site. We can provide near-real-time reports and insights that can help you take proactive steps to address chargeback requests when they happen. For example, you can stop a chargeback from going through by providing a refund proactively.
We've discussed chargebacks previously, covering a wide range of topics that we hope you'll find useful:
However, it might be more beneficial at this point to talk a little about how chargebacks work and the processes involved. For now, we'll use the new Visa chargeback ratios to discuss the best times to issue proactive refunds.
The importance of decreasing chargeback ratios
To discuss the importance of lowering chargeback ratios, we'll start by quickly outlining the Visa chargeback monitoring program. They manage two different programs:
The new standard program applies when there are 100 or more disputes and 0.9% or higher dispute-to-transaction ratio.
The new excessive program applies when there are 1,000 or more disputes and 1.8% or higher dispute-to-transaction ratio.
This year, the thresholds have been lowered from 1% to 0.9% and 2% to 1.8%, respectively. In other words, it's now more important than ever to reduce the number of chargeback requests you receive. It's particularly important for high risk business owners, as you are naturally more prone to chargebacks in the first place.
While there are several ways you can prevent chargebacks, spotting a low-cost chargeback in good time can be a massive cost and risk saver.
Cost and risk saving through refunds
To use an example, if you sell supplements and you sell a low-cost supplement bottle below the cost of $15, you might very well find that issuing a refund is by far the better option than disputing a chargeback.
Even if the customer is in the wrong, or their reason for issuing a chargeback is questionable, the fact remains that the chargeback sum in question is $15. When you factor in the time you'll need to spend finding and preparing documentation for disputing the chargeback, together with the likelihood of winning a dispute (the odds are most often against the business owner), the total cost of disputing the chargeback can quickly exceed the sum you might gain from winning a chargeback dispute.
Even if we discount the financial aspects, there is certainly an argument to be made for issuing refunds quickly and simply. By putting a good Customer Relations Management system and a chargeback mitigation system in place, you can quickly establish buyer profiles and estimate potential lifetime customer values. By doing so, you can quickly see the projected overall value of a customer.
If a customer is likely to spend two-three hundred dollars over time, then there's little reward in disputing a $15 chargeback. On the other hand, you might be able to boost the lifetime value of a customer if you intercept a potential chargeback by getting in touch with them and offering a simpler route to a refund – giving them a positive experience with your brand. When done right, you might even convert a casual customer into a brand ambassador and promoter.
Chargeback mitigation and refunds result in effective risk management
When it comes to dealing with chargebacks, you might find that offering a refund at an ideal time results in greater rewards than disputing it. This often revolves around timeliness and identifying and lowering risk through effective chargeback mitigation. We can help you by providing you with a chargeback mitigation program that gives you near-real-time notifications and the insights you need to act accordingly.
If you need high risk credit card processing or a high risk merchant account recommendation, get in touch with us today. We're more than happy to help. Alternatively, you can give us a call at 1-800-570-1347.