At E-Commerce 4 IM, we work to make the lives of high risk site owners easier by providing stable merchant services, as well as advice that can make a difference. This time around, we're going to cover one of the most crucial aspects of high risk e-commerce: how to get a merchant account.
Whether your business is local with a physical store or based on the internet, merchant accounts are critical. This tends to be more difficult for high risk businesses as fewer merchant service providers are able to offer their services. As a business owner, this can be exceedingly frustrating, but we hope this article gives you some information you can make use of when it comes to finding a merchant account for your business.
If you already know that your business is considered high risk and you need a merchant account or need high risk friendly credit card processing, please get in touch. We look forward to providing you with the merchant services you need. If you're looking for a quote to see whether we can offer you better processing fees or monthly fees, we're more than happy to help. For now, let's talk about how you can get a merchant account for your high risk business.
Do you need high risk merchant services?
The first step on your journey when figuring out how to get a merchant account for your business is to establish if you need any special considerations.
Most businesses don't need specialized merchant services in order to accept credit card payments online. However, if your business is classified as high risk then you'll need to pay particular attention to the terms and conditions of your business' processing agreements.
For example, you might need to have rolling reserves in order to establish your merchant account. Or you'll find that you're actually spending more than you need on merchant account fees, like transaction fees, compared to what other merchant service providers might require.
You might be thinking, "How do I know if this applies to me?" and while we want to give you a checklist that covers everything, it can quickly become unnecessarily complicated. That's why we'll cover some basics right now.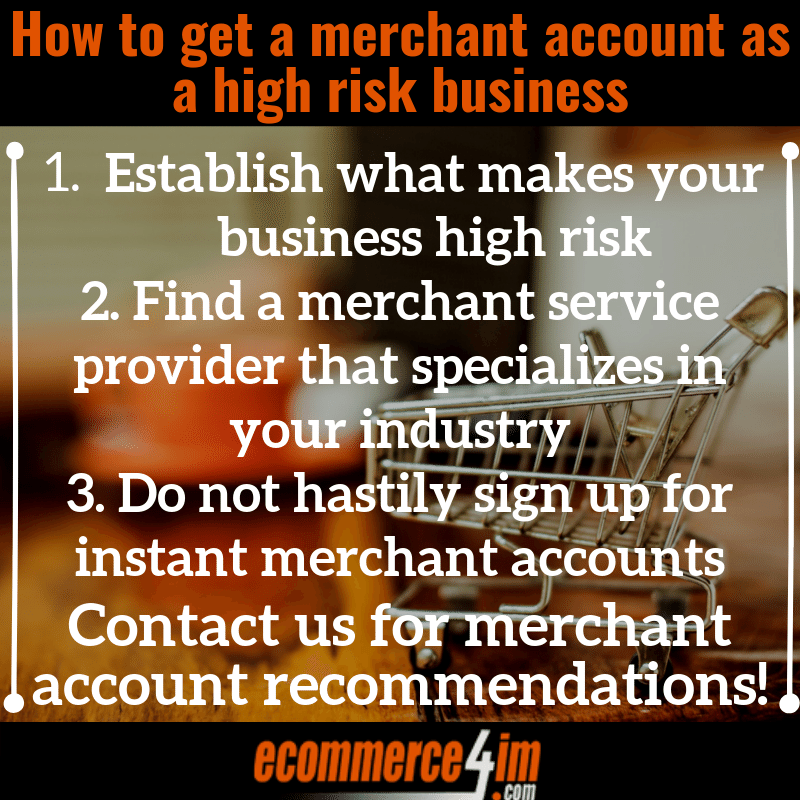 What makes a website high risk?
As we mentioned, there are many elements that play a role in whether credit card networks, banks, or merchant service providers determine that a business is high risk. However, to help you find out how to get a merchant account we'll outline some basic factors that usually label you as high risk. These are:
You sell products that are highly regulated, like CBD or supplements
You're selling products that have a historically higher than average chargeback ratio, like coaching services, beauty and skincare products, etc.
Your business is selling products/services targeting adult themes and/or are for adult customers only
You're in an industry that experiences higher than usual levels of fraud
The list does go on, but this is the gist of it. If any or all of the above apply to your business, you'll want to make sure your business bank account is tied to high risk friendly credit card processing and merchant accounts.
I need a merchant account instantly, what do I do?
While there are instant-approval, high-risk merchant accounts advertised out there, you should be very wary of these when you're running a high risk business. The following tips are very important for you when figuring out how to get a merchant account.
First, you should know that even the providers that do offer instant merchant accounts usually have some fine print stating that approval does take 24 to 48 hours.
Second, signing up for a merchant account often also means signing up for long term contracts. Instantly agreeing to such deals can mean hastening a decision that should be carefully evaluated – which is not what you want.
Furthermore, finding high risk payment gateways and backend processors that work together is necessary in order to accept credit cards like Visa or Mastercard.
Lastly, as a high risk business owner, you want to make sure that your merchant account and processor do a thorough, upfront underwriting process. While it can feel tedious, it really makes a massive difference. It's the difference between whether or not your credit card processor and merchant account actually understand the nature of your business, credit history, and business model.
For the record, having a processor and a merchant account provider that truly understands your business is invaluable when you're selling high risk products.
Still not sure how to get a merchant account?
We haven't covered everything here, but we hope you now have more weapons in your arsenal as you start finding a merchant account. If you need high risk friendly merchant account recommendations and tips, feel free to get in touch with us here. You can also give us a call if you need credit card processing or chargeback mitigation. We're here to help make it easier and more profitable for you to run your high risk business. We look forward to hearing from you soon!