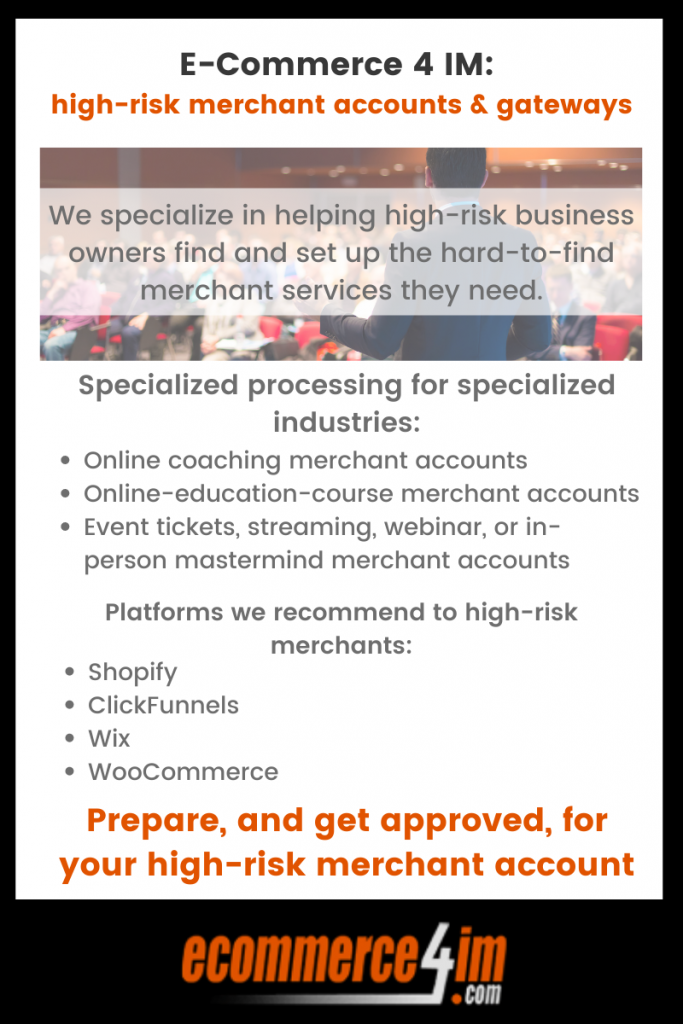 At E-Commerce 4 IM, we specialize in helping businesses in traditionally high-risk industries find the high-risk merchant services they need to accept credit cards – without fear of being shut down. This hasn't changed and will not change.
However, over the last year, we have refined our focus to a few core shopping carts and a few online industries. We decided to reshape our website to reflect this. This refined approach allows us to truly specialize and allows our staff to provide the very best service and prices possible.
Specialized processing for specialized industries
We now concentrate exclusively on coaching, online courses, and mastermind events businesses that sell their services on one of four web platforms: ClickFunnels, Wix, WooCommerce, and Shopify.
Our sister site, Organic Payment Gateways, centers on CBD and nutritional supplements. This targeted and segmented approach helps our team to truly be "experts" in each arena and allows them to better serve our clients.
Industries E-Commerce 4 IM serves
Online coaching merchant accounts
Even with a great track record and excellent, proven cash flow over years of selling coaching services online, financial and credit card institutions still define online coaching businesses as high-risk.
There is no lack of demand for online coaches, but accepting credit cards online remains a frustrating challenge for too many qualified mentors. We want to help you do what you do best by providing you with the ideal online coaching merchant account for your specific niche.
Merchant accounts for online courses
Trying to find a high-risk friendly merchant account so you can accept payments online can be frustrating and disheartening. We make it safer, easier, and more efficient for you to process credit card payments for your online courses. People are actively looking for ways to educate themselves and you have the tools that can empower them – accepting payments should never be a roadblock.
At E-Commerce 4 IM, we will set you up with specialized merchant accounts for your online education courses. We help educators across dozens of industry certification, business training, and self-help niches get approved for the merchant account they need to grow their business.
Event tickets, streaming, webinar, or in-person mastermind merchant accounts
At E-Commerce 4 IM, we want to help you process credit card payments online for your online event tickets, streaming, webinar, and mastermind classes with the ideal high-risk-friendly merchant account.
Even though promotions for event tickets, webinars, mastermind classes, and streaming are seemingly everywhere, it's still tough to find suitable merchant services. Many who are new to selling these kinds of services are frustrated to find that few processors offer the type of merchant account they need.
We will set you up with a specialized merchant account – regardless of whether you sell streaming services, online or in-person mastermind classes, or event tickets.
Chargeback mitigation
Fraud detection software is an essential component of a high-risk merchant's arsenal against chargebacks. However, more often than not, it merely weeds out the less talented fraudsters. Our chargeback mitigation software was explicitly designed with this in mind.
The software is designed to be your first line of defense in chargeback prevention and to be used alongside your fraud detection software. This unique service uses its relationships with the card issuers to alert you to user-confirmed fraud and customer disputes. As a result, you can take care of an impending chargeback before it's been issued!
If you don't have a chargeback mitigation system in place, please don't wait to contact us. It's crucial for high-risk businesses to have a chargeback protection plan in place – both for the short and long term.
Shopping cart software we specialize in
Accept high-risk credit card payments on Shopify
Shopify gives you an overall, all-in-one e-commerce platform that makes it easy for you to customize your online high-risk store. This is why we've made sure that when you run your business on Shopify, you can easily and effortlessly accept debit and credit card payments with our processing.
Do you sell high-risk products through Shopify? Then you've come to the right place – we have the credit card processing you need. All you need to do is get in touch with us here to find out how our processing can help you achieve your business goals.
ClickFunnels and high-risk processing
In our experience, high-risk business owners love the overall funnel and marketing capabilities they get with ClickFunnels. What makes ClickFunnels truly special is how easily high-risk business owners can grow their business. This is one of the main reasons why we make sure that not only does our credit card processing work very well with ClickFunnels, but our chargeback mitigation system does too!
Our high-risk credit card processing gives you the security and value that you need from each sale. If you're curious to know what we can do for your ClickFunnels-run business, contact us today.
WooCommerce and high-risk payments
WooCommerce is a perennial e-commerce favorite and, impressively, it remains one of the most popular choices for selling high-risk products online on WordPress. While there is a huge variety of e-commerce plugins and options out there, WooCommerce is the definite go-to for most. For high-risk e-commerce, its open-source nature makes it a particularly good choice as it makes it easier to integrate third-party, high-risk credit card processing.
If you currently run a high-risk business on WordPress with WooCommerce, using standard merchant accounts and gateways, please don't wait to contact us. Having the right, high-risk, credit card processing is business-critical – both for the short-term and long-term success of your venture.
Wix and high-risk payments
Wix has quickly grown into one of the largest hosted e-commerce programs available. With dozens of templates, Wix allows coaches and internet marketers to easily set up professional websites that look and feel custom.
With simple-to-add features for event tickets, online class bookings, and business coaching services, Wix does almost everything. Unfortunately, Wix's standard payment gateway options can be very restrictive in terms of the types of coaching, online education, and internet marketing programs they allow.
If you're running, or planning to run, your high-risk business on Wix, you need specialized merchant services in order to accept payments. With our experience with third party Wix payment gateways and shopping cart integrations, you'll get flexibility well beyond Wix's standard features.
Contact us today to process high-risk credit card payments
As a high-risk-business owner, you have no doubt experienced frustrating issues when it comes to accepting credit card payments online, whether that is struggling to find the right payment gateway for your website platform, or trying to get approved for the merchant account you need. It can be a real pain, but it certainly doesn't have to be.
Regardless of whether you need your first or additional merchant accounts, there is no time like the present. We believe setting up your first or additional merchant account, even when you sell high-risk products and services, should be simple. That is why we do what we do – pair unique high-risk businesses like yours with the best high-risk merchant account we can.
With us at E-Commerce 4 IM, you will get stable, secure, and effective credit card processing for your online business.
If you are struggling with frustrating chargeback issues, we also offer an excellent chargeback mitigation program. Contact us today to get started.