At E-Commerce 4IM, we want to give you advice that makes it easier to market and sell your high-risk products online. This is why we want to cover and compare two very popular lead generation and sales funnel software types: ClickFunnels vs. LeadPages. We'll look at them from our unique perspective, and we believe it will help you make a decision on which is best suited for you. That's because we help high-risk site owners, entrepreneurs, and funnel hackers like yourself process online credit card payments.
Full disclosure, this post is not without bias. We know the folks at ClickFunnels, we have been a sponsor at their events, and have been consistently impressed with their founder. Conversely, we do not have a personal relationship with LeadPages.
We specialize in providing high-risk credit card processing, high-risk merchant accounts, and chargeback mitigation. If you need any help processing debit and credit cards online, you can get in touch with us here. Alternatively, you can give us a call at 1-800-570-1347. We're always ready and eager to talk about your business' needs.
ClickFunnels vs. LeadPages: what they have in common
Before we dig into the differences, let's quickly look at what these two solutions have in common. There's a reason why the two software solutions are often compared. It ties back into our earlier article covering what a marketing funnel is. Primarily, they both cater to critical components of the marketing funnel.
Both solutions want to make better use of the "awareness" and "interest" stages of a marketing funnel.
The way both achieve this is by providing a simple "give and take" scenario: provide an offer your audience wants in exchange for contact information, which allows you to cultivate your leads down the line.
Both allow you to create beautiful landing pages, using a simple and intuitive drag-and-drop editor.
However, you don't have to be super creative if you don't want to be. LeadPages & ClickFunnels allow you to choose from a wide range of templates you can work from and edit.
When comparing ClickFunnels vs. LeadPages, we see that both offer built-in split testing (A/B testing) that will help you optimize your efforts.
This allows you to test, make changes, and improve your conversion rate optimization (CRO) efforts overall. This is a valuable feature once you start seeing more volume through your marketing funnel.
They certainly sound very similar. However, their differences determine who they suit best.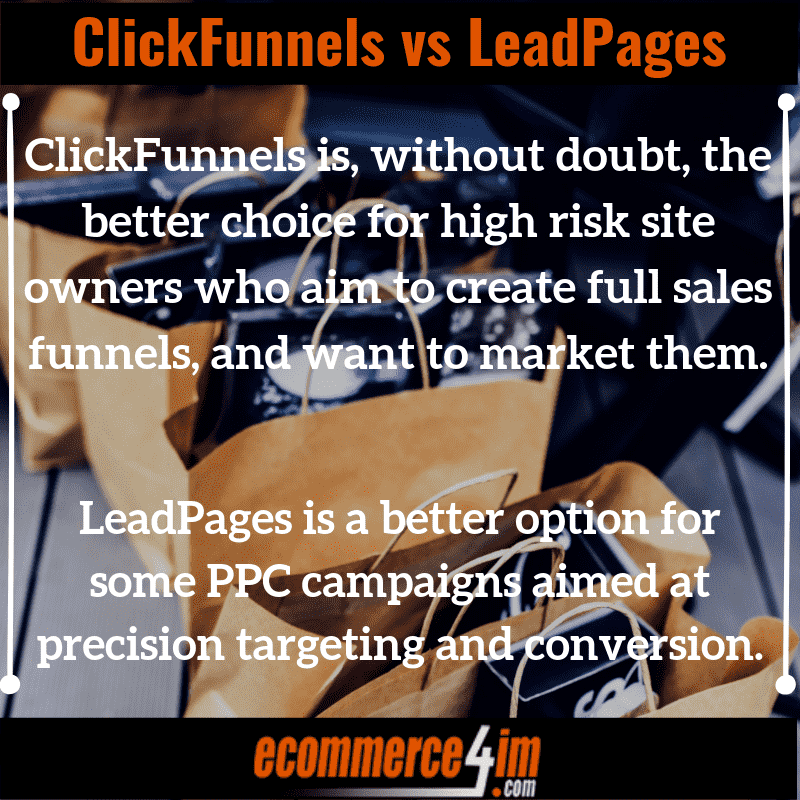 What are LeadPages' most significant positives?
Very complete and powerful landing page builder: Where ClickFunnels offers a more comprehensive, far-reaching sales funnel, LeadPages is much more specialized.
Hundreds of free (and paid) templates for all niches: A positive for LeadPages is that you'll get a considerable number of templates depending on your business and industry type.
An HTML editor is included: This might not be the most useful feature if you're not comfortable editing code and HTML. However, for developers and intermediary coders, the HTML editor is a feature you can take advantage of.
Easy integration with WordPress: Being able to integrate with WordPress easily might be an underappreciated feature. However, we think it's worth mentioning.
What are ClickFunnels' biggest positives?
Again, even though we're comparing ClickFunnels vs. LeadPages, we absolutely love ClickFunnels, their ownership, and their management team. We think they have done an excellent job over the years, and we consider them top players in the industry. Here are a few of the reasons we love their funnel builder.
Extremely easy, all-in-one sales funnel creation: One of the biggest strengths of ClickFunnels is that it's complete. Once you set what you want to achieve with the funnel, ClickFunnels will generate the pages necessary. You can then edit what you need from there.
Shopping cart and automatic email responder included: In terms of capitalizing on leads, ClickFunnels has a big leg up on LeadPages. While you'll still get a massive number of templates, the difference is that you can integrate a shopping cart that also uses a built-in email autoresponder. This allows you to cement your leads early on – automatically.
Accept payments on the landing pages: One of the best things about ClickFunnels is that you can easily incorporate payments. This includes incorporating high-risk payments with the funnels you create. We can easily set you up with a payment gateway that works smoothly with ClickFunnels – giving your customers a very complete purchasing experience.
Easy integration with Twilio: Being able to send automated SMS' to your new leads is a massively underappreciated aspect of lead qualification and preparation. By integrating Twilio, you'll be able to recapture and remind your leads about your offer quickly.
ClickFunnels vs. LeadPages; which is better?
In terms of deciding which is better, it depends on what you want the software to do for you. If you're a high-risk site owner, you'll probably get the most bang for your buck with ClickFunnels. This is simply because its primary function is to offer you "the whole funnel" (so to speak). While the entry-level subscription is more expensive ($97 for ClickFunnels, vs. $25 for LeadPages), it does offer a substantial set of features from the start.
That said, if you're an online PPC marketer, you might find that ClickFunnels has more features than you need. For example, if you run simple PPC (pay-per-click) campaigns and paid social campaigns, LeadFunnels might be a more economical fit for you.
In short:
ClickFunnels is, in our opinion, without doubt, the better choice for our high-risk site clients who aim to create full sales funnels, and want to market them from one simple "hub."
LeadPages is a better option for some PPC campaigns aimed at precision targeting and conversion – especially those on a tight budget
Remember, if you need help finding ways to accept payments for high-risk products when using either software, don't hesitate to reach out. At E-Commerce 4IM, we're here to help you accept credit cards easily, reliably, and successfully over time.