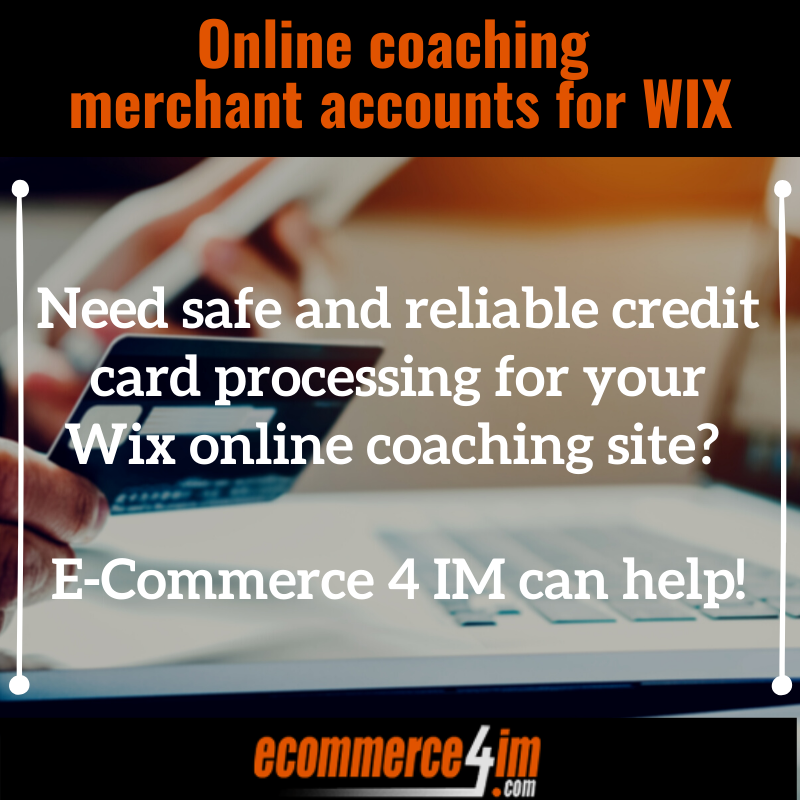 No matter what type of online coaching you specialize in, you're providing a better way for driven people to achieve their dreams. However, finding a merchant account that works for online coaching can become challenging.
Processing credit cards online is practically impossible without processing that works for your business, especially if it's run on a big e-commerce platform like Wix. This is because, as an online coaching provider, you run a high-risk business.
What this means for you is that you need merchant services from a provider that specializes in high-risk businesses like yours – especially if you need to process high dollar volumes.
At E-Commerce 4 Internet Marketers, we want to help you do what you do best by providing you with the ideal online coaching merchant account for your specific niche. It's not right that accepting credit and debit cards online remains a frustrating challenge for many qualified mentors. After all, there is no lack of demand for online coaches, especially these days.
Are you looking for some free online-coaching credit card processing advice? Or are you looking to set up a new, or even your first, online coaching friendly merchant account? Contact us anytime. We're more than happy to help! We'll find the merchant accounts that will fit the bill nicely. On the other hand, if you'd like to know more about using Wix for your online coaching services or how to accept payments for online coaching, read on below.
Why choose Wix for online coaching
Wix can be a fantastic platform for online coaching programs. After all, Wix has quickly become one of the biggest e-commerce platforms available. It offers simple design capabilities and great all-in-one solutions. Overall, Wix is a familiar, popular choice for business owners operating within a wide range of industries.
What makes Wix a particularly attractive choice is that it can be an excellent option for high-risk e-commerce. That is, as long as the processing is set up correctly on the back-end. With the right high-risk merchant account and 3rd party payment integrations, we'll help make your Wix site high-risk friendly in no time!
Do you need help setting up safe and reliable credit card processing for your high-risk Wix online coaching site? Then don't hesitate to get in touch with us today.
Why online coaches struggle to get the best processing
Are you having a tough time finding merchant service providers that cater to online coaches? Maybe you've even had trouble maintaining a PayPal or Stripe account for your coaching business. If that's the case, please read on below. With our help, you'll be able to sustainably handle high-volume, low-ticket sales in no time.
Processing history might not be enough
Unfortunately, financial and credit card institutions still define the online coaching business model as high-risk. Even with a great track record and excellent, proven cash flow over years of selling coaching services online, you'll still face challenges finding credit card processing solutions due to being defined as "high-risk." While there are several rationalizations used to come to this conclusion, the main reason that online coaches are considered high-risk is because of chargebacks.
The simple fact of the matter is that when you sell personal and professional improvement, it sometimes does not matter how proven and trustworthy your methods and systems are.
Chargebacks and online coaching
Inevitably, there will be customers or clients who can't make sense of things and make it work. Maybe it's because of a lack of commitment on their end, maybe personal or professional challenges take them off course. This can trigger chargeback requests, which, in high ratios, can destroy your merchant processing ability.
A coaching program is, in large part, what the user makes of it – regardless of how excellent the coach or program is. This is what effectively makes online coaching a high-risk business. As a result, we can't recommend strongly enough that all online coaches have a chargeback mitigation program in place to minimize potential problems down the line. This is especially important to online coaches with recurring billing. Even if you've never had a problem or complaint, having a chargeback mitigation program in place is the smart choice – if only to be on the safe side.
Accept payments for your Wix based online coaching
At E-Commerce 4 IM, we've helped online coaches for years. We leverage our experience to help you get the best merchant account and third-party payment integration possible for your Wix website.
If you're ready to start accepting debit and credit card payments on your online coaching Wix site – give us a call at 1-800-570-1347 or contact us here on our website.