One of the benefits of marketing on the internet is that if you have a great idea and compelling content, people will be happy to pay a fee to interact with your site. There are some really great ideas for income-generating membership sites out there. However, what a lot of entrepreneurs neglect is figuring out the best way to monetize a membership site project. You can have the best website in the history of the web, but if you aren't converting clicks to cash, then you aren't doing much for your bottom line. So, how should you go about receiving payments on your membership site?
Membership site payments is an area in which E-Commerce 4 IM specializes. Since many types of membership sites are considered high risk businesses by the banks, merchant accounts can be hard to obtain without some professional help. For years, E-Commerce 4 IM has been making the impossible, possible, for high risk internet merchants around the world. Here are some options to consider as you are figuring out what payment method is right for your membership site.
1. A Merchant Account and Payment Gateway of Your Own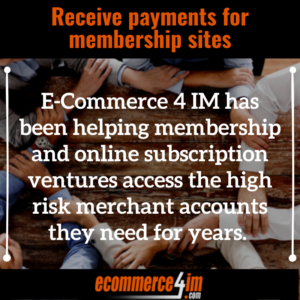 If you anticipate having a lot of members and want to have the maximum possible control over the money that you earn, having a merchant account and payment gateway that works for your site is the best option. If these terms are unfamiliar to you, you aren't alone.
A merchant account is essentially a bank relationship where credit card transactions are settled. Once a payment is settled, the bank will briefly hold and then will transfer, those funds, into your business checking account. A payment gateway is an electronic connection between your website and your merchant account. It is just like the point-of-sale machines at a brick-and-mortar store. A payment gateway is the infrastructure that allows the acquiring bank, the issuing bank, and your business to communicate seamlessly in a secure environment.
Without experience and history with these two elements, it can be hard to process credit cards without exorbitant fees and restrictions. E-Commerce 4 IM has been enabling credit card processing for membership sites for years. If you're looking to establish a payment gateway or merchant account, we certainly will help your business.
2. Payment Aggregators
A payment aggregator is a company that acts as a middleman for small businesses in the credit card processing system. Companies like PayPal, Square, and Stripe allow you to process credit cards through their master merchant accounts. These payment aggregators are selective in what business types and industries they will cater to.
3. Alternative Currencies
Bitcoin is all the rage right now, but it is a pretty unstable currency. Anyone who has watched the wild ride that Bitcoin's value has been on recently can attest to that. The average customer rarely understands or uses blockchain currencies. In other words, if you use Bitcoin as your sole payment method, you'll probably limit your potential customer pool dramatically.
4. Offline, Non-Credit Card Payment Options
If you are running an e-commerce business like a membership site, this probably isn't a great option—but, it IS an option. Oldschool checks and money orders that folks give or send to you is money in your pocket. However, it's slow and a bigger pain than most people want to deal with. Lastly, it will kill your conversion rate. Very few customers are willing to go through the hassle.
What's the Best Option for a Membership Site?
The very best option for receiving payments on your membership site is to let the professionals guide your decision making. E-Commerce 4 IM has been helping membership and online subscription ventures access the high risk merchant accounts they need for years. We can leverage our established relationships with banks around the globe to design merchant account and payment gateway solutions that are right for you. Call us today at 1-800-570-1347 or reach out to us through our website, and one of our experts will be happy to get you started.