Credit repair companies, like yours, need specialized payment processing in order to provide their much-needed services. Across America, thousands of honest, ethical credit repair companies help people fix their poor credit standings. A credit repair friendly merchant account is critical for you to run your business. Online credit repair companies work hard to enrich their client's credit scores. Boosted credit scores can help people obtain loans, save money on insurance, and enjoy the financial – and psychological – benefits of having better credit. But, credit repair companies need a safe, easy way to accept credit card payments.
At E-Commerce 4 Internet Marketers, we want to help you do what you do best by providing you with the ideal high-risk merchant account for your industry. We focus on offering specialized processing for specialized industries. As a result, we're very familiar with the challenges you face as a credit repair business owner.
We're always happy to offer you some free credit repair industry-specific credit card processing advice. We'll recommend – and help set you up with – a merchant account that will work for your specific needs. In other words – if you offer credit repair, credit improvement or education, credit counseling, credit restoration, or all of the above – we're ready to help you with payment processing today!
Why you need high-risk credit card processing
When you provide credit repair services, you're serving a customer base that desperately needs your help. Your service is crucial to many people, yet you face challenges due to your business's very nature. Most banks and credit card processors are either unwilling or unable to offer you their merchant services because credit repair is considered "high-risk."
While there are many reasons why financial institutions consider credit repair companies "high-risk" there are two primary causes. One is that your clients often have had challenges due to being cash strapped. This can cause high chargeback ratios that in turn increases risks for banks and credit card processors.
Another universal challenge is that credit repair businesses are under tight scrutiny by regulatory bodies. It's a common reason why many companies fall under the "high-risk" label.
However, what is essential to keep in mind is that being a high-risk business doesn't mean that your business is suspicious or that you can't get the merchant services you need and deserve. It simply means that you're operating in a specialized industry that needs specialized processing – and we're here to help.


Is PayPal an option for Online credit repair companies?
When offering payment solutions to customers, it's always tempting to lean on familiar brands people recognize. However, we want to stress that, as a credit repair business, PayPal is not the answer. There are a couple of reasons why you should avoid using PayPal, or at least avoid relying on PayPal, as your payment option.
One big reason why you should look for much more specialized credit card processing and use a high-risk merchant account is that PayPal may shut you off. This lack of ability to accept credit and debit cards is a dire situation for any business to be in.
We won't spend a lot of time explaining why here, but you can learn more about PayPal and high-risk processing here. For now, it's just important that you know that PayPal isn't the answer for you due to how PayPal works on a fundamental risk management level.
Another big reason you should seek out high-risk merchant accounts and gateways is that using PayPal for your credit repair business can hurt your conversion rates. National Consumer Reporting Association highlights that companies accepting PayPal only can be a sign that they are not credible in the first place. They go as far as to underline that it's an "important warning sign" that consumers should avoid credit repair businesses that offer PayPal only.
This inevitably means that you need to be approved for a high-risk merchant account and payment gateway for your credit repair business. It will help you maintain your ability to accept payments in the short and long term. Additionally, it will help reassure your potential customers that your business is both credible and reliable.
Choosing the right site builder and platform
One of the fundamental building blocks that need to be in place for any business today is having a website that works well, looks good, and offers the features and processing ability people expect.
The choice of what website builder and platform you use is particularly important when you're running a high-risk business online. This is because of the intricacies that come with needing to use a high-risk payment gateway and integrating it with your merchant account and online platform.
From our years of experience helping specialized businesses get approved for specialized processing, merchant accounts, and payment gateways, we've found the platforms that work best for credit repair companies.
The site-builders you can use for your credit repair business
As a credit repair business owner, there are two options you should look at specifically. WordPress with WooCommerce or Shopify are great options as a credit repair friendly platform and website builder. Not only do both offer excellent customizability, but they also make it possible to integrate ideal high-risk merchant accounts.
Shopify credit repair payment processing
Shopify offers one of the more robust all-in-one e-commerce solutions currently available on the market. The fact that it is also high-risk friendly when properly integrated with the right merchant account and gateway makes it a very popular choice for a wide range of high-risk businesses.
We have more than a decade of experience assisting Shopify website owners with high-risk credit card processing.
WooCommerce credit repair payment processing
WooCommerce is a veteran in the e-commerce space. The fact that WooCommerce remains one of the go-to high-risk solutions for accepting credit card payments online, is a testament to WooCommerce in itself. WordPress's wide-spread popularity has the benefit of opening up a vast network of potential resources for maintenance and specialist assistance.
We find that integrating credit repair payment processing with WooCommerce is as streamlined and straightforward as any top site builder.
Credit repair payment processing can be integrated with dozens of shopping carts
We offer credit repair payment processing that integrates with shopping cart alternatives beyond Shopify and WooCommerce, for example: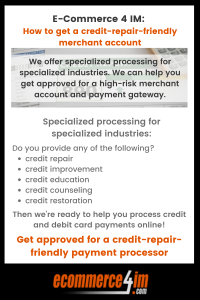 ClickFunnels
Wix
BigCommerce
Credit Repair Cloud
Dispute Suite
ScoreCEO
TrackStar
DisCo
DebtPayPro
Using NMI payment gateway for credit repair processing
Network Merchants, Inc. (NMI) is one of the leading payment gateways for high-risk businesses. From being able to process transactions from across the globe to done-for-you PCI compliance solutions, there's no wonder why NMI is a go-to choice. However, one of the biggest draws for many is the patented ATRI multi-merchant account ability you get through NMI. It enables you to manage multiple merchant accounts under one login.
Having said all this, what's vital for you to know for your credit repair company is that you need to integrate NMI correctly with your chosen platform. When it comes to integrating any high-risk payment gateway, it can get quite technical.
While principles can be simple and there are site-builders who provide step-by-step directions, it's crucial that this is done correctly for you to be able to process credit card payments from the start. If you need any help setting up your NMI gateway account or gateway and merchant account – don't wait to get in touch. We're more than happy to help.
Should you need to learn more about NMI, we'd recommend checking these resources:
How to Overcome Compatibility Issues with NMI and Shopify
Integrate an NMI Payment Gateway with Shopify
We Help Shopify Users With Secure Data Imports to NMI Payment Gateways
Using Authorize.Net payment gateway for credit repairprocessing
Authorize.Net is, without doubt, one of the popular favorites among high-risk businesses. With their robust, yet intuitive features, including card on file through their C.I.M. and Automated Recurring Billing, you get a very user-friendly payment gateway that has the tools you need from a well-established payment gateway.
Additionally, through Authorize.Net, you will have access to their standard, Advanced Fraud Detection Suite options at no extra monthly cost. Fraud can be a challenge when accepting credit cards for online credit repair services, and Authorize. Net's fraud tools can be a huge help.
Do you have the chargeback protection you need? If not, please contact us today.
If you need Authorize.Net integration for your credit repair business, contact us to get started. We're ready to help you set up your Authorize.Net payment gateway in no time!
If you need to get approved for a high-risk merchant account for your credit repair business, you can contact us here.
Don't wait! Start processing credit card payments safely
Don't rely upon payment methods like PayPal that hurt your conversions or diminish the hard-earned trust you've established for your business. What's more, if you're currently using a processing option that can shut down on you and potentially freeze your funds, you're taking an unnecessary risk with your business.
At E-Commerce 4 IM, we offer specialized processing for specialized industries. We'll help you get approved for credit repair-friendly high-risk merchant accounts in no time. We'll even set you up with the high-risk payment gateway you need and integrate it all with your site builder or website platform. All you need to do is contact us today or give us a call at +1-800-570-1347.