At E-Commerce 4 IM, we provide expert advice to various high-risk businesses, making it easier for you to market and sell your high-risk products online. We've found a great way for continuity subscription merchants to market and create landing pages for their products: ClickFunnels. ClickFunnels for subscription merchants is an excellent overall solution and we want to make sure you know about it. After all, the purpose of our blog and news section is to provide the best possible advice we can. This includes looking into digital marketing software, various processing software, and generally finding and promoting ways you can easily set up recurring billing for your subscription business and online shopping club.
Before we go on to our ClickFunnels for subscription merchants example, full disclosure: this post isn't without some bias. We know the people over at ClickFunnels and have even been a sponsor at their events, and we've been consistently impressed with their founder. That said, we do believe that ClickFunnels serves as one of the very best solutions for marketing and selling high-risk products or services.
Are you ready to start accepting credit card payments for your membership site and need high-risk processing?  Do you need high-risk merchant account recommendations or chargeback mitigation? If so, get in touch with us today. We're happy to set you up for high-risk payments. You can reach us here, or you can call us at 1-800-570-1347.
ClickFunnels basics: What is a click funnel?
If you haven't come across it, you might be wondering what ClickFunnels is. ClickFunnels is very aptly named. Effectively, it allows you to design a funnel of web pages, in which each visitor is guided through the funnel towards the desired outcome with each click. While that explanation might be a little oversimplified, that's the general concept. It aims at creating an effective, easily marketable sales funnel.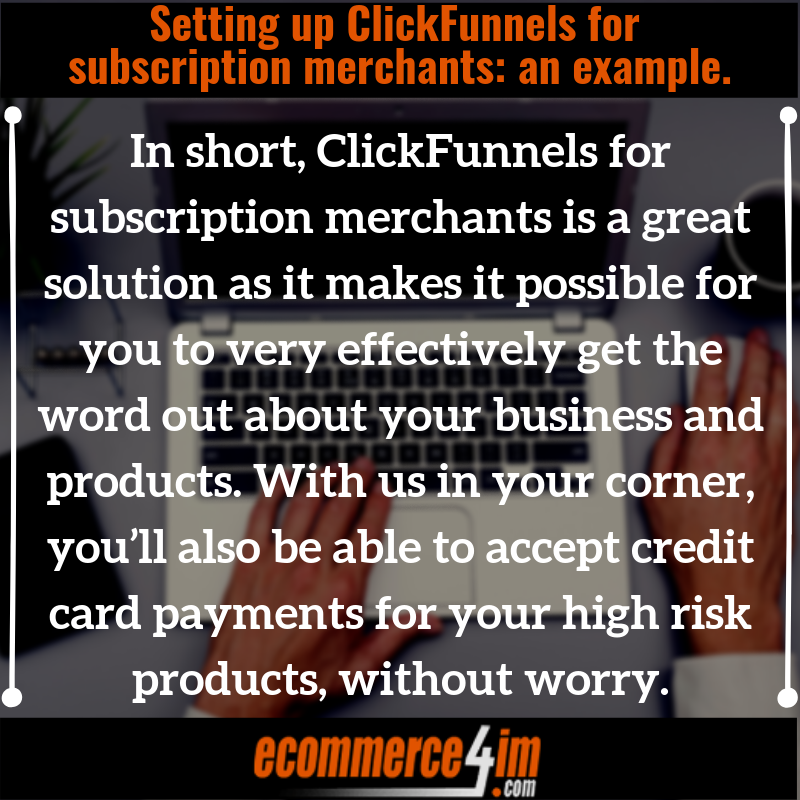 Using ClickFunnels: a supplement membership campaign example
The best way to start explaining how subscription merchants can use ClickFunnels is through an example. Let's say you run a supplement subscription website, selling supplements to members who pay on a monthly basis using ClickFunnels. One avenue you can use to market this service and product is through Facebook.
Facebook has an absolutely astonishing number of members, and their ad system is pretty sophisticated. This makes Facebook an ideal platform to market a membership and community-focused product. That said, when marketing continuity subscriptions, you should be wary as to what you promote on social media.
Big caveat here: Facebook does have extensive Terms and Conditions for what you can and cannot advertise using their services. You need to carefully and thoroughly ensure that your Ads do not violate their terms.
Since you're planning on promoting supplements, you should avoid a hard sell for your product or membership. What you can do instead is to promote a challenge or event. For the purpose of this article, you'll be promoting a wellness challenge – where members can compete to win a discount on your membership prices.
Step-by-step walkthrough: Facebook and ClickFunnels for subscription merchants
Step one for your high-risk supplement membership site can be to create a Facebook group for your existing subscribers. This creates a baseline of the types of people you can create your ad around.
Step two is to create your promotion by using ClickFunnels funnel builder to create different landing pages where people subscribe, confirm, and commit to your offer. Through the funnel, you can ask for contact information where they give you permission to contact them with marketing material. They may leave email addresses, phone numbers, or other contact details. This makes it possible for you to non-intrusively grow your potential customer base, even if people drop out of the funnel at some point.
Step three would be to create Facebook Ads, where you promote the competition to people based on your existing membership profiles.
A reminder of the caveat: Facebook does have extensive Terms and Conditions. You need to carefully and thoroughly make sure your Ads do not violate their terms.
The goal is to make people excited about the challenge and about their well-being. However, you want to be tying both concepts to your supplement membership site. The great thing about setting up ClickFunnels for subscription merchants is that it allows you to offer various billing solutions and handle credit card information.
That said, you'll want to make sure you have a high-risk payment gateway set up with it. Otherwise, you might encounter issues with your processing. This is because you sell supplements, and as a consequence, you're what's called a high-risk merchant. Don't worry though! We offer high-risk friendly credit card processing, and can set you up with the right payment gateway for your unique business. Simply get in touch with us here.
Continuity billing and processing for high-risk subscription merchants
We've focused here on describing how ClickFunnels for subscription merchants works, specifically for supplement membership sites, but much the same applies for a wide variety of subscription business types. For example, if you sell mastermind lessons, coaching, or health and beauty products, the same principles apply.
We would be doing you a disservice if we didn't highlight the fact that if you're in any of those industries, your business is classified as high-risk. What that means is that you need high-risk credit card processing in order to safely run continuity billing.
Many high-risk site owners have a hard time finding the right processor and merchant service provider. The good news is that we'll fix that problem for you, and we can start solving it today. All you need to do is get in touch with us for a free talk about your business and your needs, and we'll set you up with processing that works for you. We can make sure it integrates smoothly with ClickFunnels, allowing you to market and advertise your business in the most effective way you can.
With us in your corner, you'll have a stress-free way to accept credit card payments for your high-risk products. Your processing is in good hands and safe for the long run. Contact us today by giving us a call at 1-800-570-1347 or through our contact form here.